THE HELIPAD ON TOP OF THE MNT HOTEL IN ISTANBUL, TURKEY
ince the late 1980s, I have been traveling extensively around the world teaching Pilates. I never intended to travel so much in my career. Yet as BASI Pilates has expanded to more than 30 countries and 100 host locations, my life seems to have been set on a tangent of circumnavigating the globe time and time again.
Rael Isacowitz The Founder of Global Brand Bası Pilates gives us a Behind The Scenes Glimpse İnto His Extraordinary Summer Photo Gallery
I typically plan my longer trips for the summer months, so my wife Adelle and our son Elan, 14, can join me. This past summer, I brought them along for a journey through London, Turkey and across the Aegean Sea that will be indelibly printed in our minds forever.
Pilates Style asked me to share my memories of my summer 2015. Here are some selections from my journal—and a real look into BASI Pilates history in the making. I've also included a few web addresses where you'll find some video footage, so you can see these pages come to life.
AUGUST 4-5, LONDON
We landed at Heathrow airport early afternoon, and for the first time ever, my luggage did not arrive. Adelle's and Elan's did, as did a small bag, which had my windsurfing and kiteboarding gear (essential for teaching Pilates!). But of course, as Murphy's Law would have it, all my workout and casual clothes did not. So as I showered for our first dinner engagement with [BASI UK licensees] Lisa Lamberti and Theo Botha, I started to contemplate what I am going to wear. All I will say is it challenged my creativity in dress and fashion to the maximum, and did include wearing a t-shirt of Elan's, taking the meaning of compression shirts to a new level. It was a great evening, and it showed me, as I have been shown many times in life, it is not about what you wear, but how you wear it, that counts!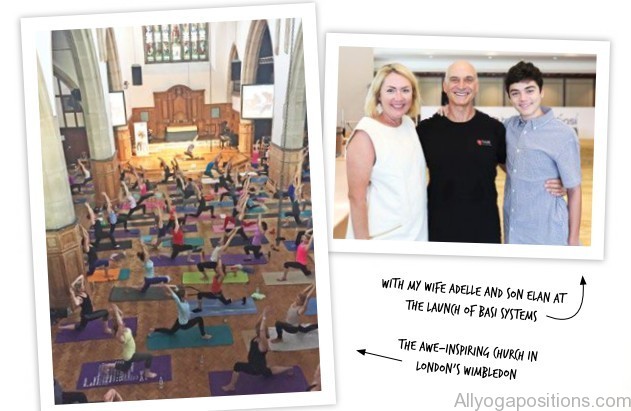 74 Uary february 2016
Today was a long day, starting with a five-hour workshop and culminating with a two-hour Marathon Mat Class. More than 100 people attended the class in a gorgeous church, adorned with soaring stained glass windows and towering ceilings. It felt spiritual from the moment I walked in. Seeing so many faces, both new and old, filled my heart with joy.
AUGUST 7-9, LONDON
I taught a Mentor Program, which is certainly the most rigorous of the programs I offer and at the same time, the most transformational. This one in London was no exception. My heartfelt gratitude goes out to all those who made it so special. The mix of people was extraordinary, coming from such different Pilates backgrounds as well as life backgrounds: dance, martial arts, physical therapy. One story, written to me in a letter following the course, touched my heart deeply. A student in the course, who due to some unfortunate knocks in life, had found herself homeless with little hope of bouncing back and building the life she once imagined for herself. Yet, through hard work, determination and her belief in Pilates, she is not only back on track, but is completing a master's degree, teaching full time as a single mom, and enjoying and appreciating every moment in life. I am humbled to my core that I became a part of her incredible story.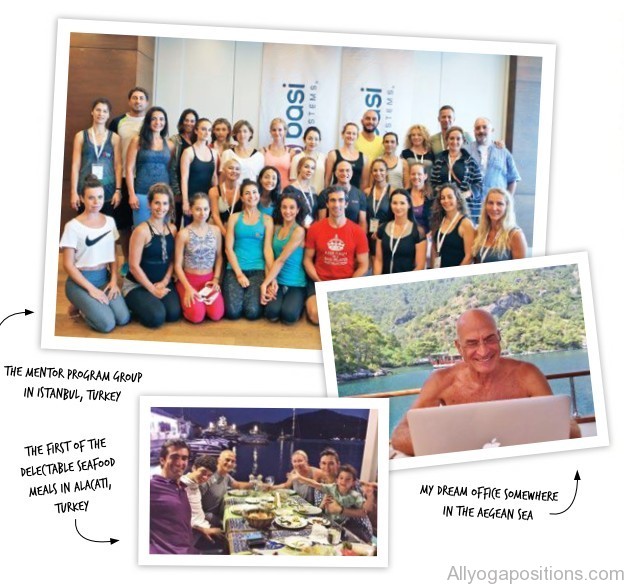 Onward bound to Turkey. Adelle, Elan and I made the critical mistake of eating a meal on the plane, knowing full well that our dear friends Cengiz Han and Ceylan Ucgun [the BASI Licensees for Turkey and partners in BASI Systems Pilates equipment] would meet us at the airport, and whisk us off to some unique and special locale for dinner. We went to BEYTI, one of the finest meat restaurants in Istanbul, established in 1945, and all I wanted was water and salad. (I am still grieving over this faux pas—I am a foodie at heart!).
During dinner, I was presented with a meticulously laid-out schedule for our five-day¬long stay. Once I looked it over, I understood the reason for them trying to pump me with nourishment. Between photo shoots, newspaper and TV interviews, teaching, meetings and social engagements, I would definitely be deprived of both food and sleep.
AUGUST 13, ISTANBUL
The day started with a photo shoot on the helipad of one of the tallest buildings in Istanbul, the Point Hotel. It was stunning, to say the least. It felt almost surreal landing on this helipad, looking over Istanbul and doing a photo shoot for the multiple media outlets that the PR company we were working with in Turkey had secured. At first, it was just the photographer and me, and then all the participants of the Mentor Program
joined us. The photographer was an artist through and through. It was a meeting of the minds and creative spirits for sure.
AUGUST 13-15, ISTANBUL
Another incredible Mentor Program! It was the same course and same material, but in a different country and different culture with different students—it was an entirely different experience. It never ceases to amaze me how vastly different the experience can be from group to group, despite the material being so similar.
AUGUST 16, ISTANBUL
This was a very special and deeply moving day for me: the launch of BASI Systems Pilates equipment. Where do I begin? The location was the Four Seasons Hotel at the Bosphorus, undoubtedly one of the most stunning hotels I have ever seen. The day began with a 90-minute advanced mat class—nothing like starting the day with a bang!—followed by a four-hour workshop about creating the ultimate Pilates session. (See the video at www.BASIpilates.com.) There were about 80 students there to see and test-drive our new line of apparatus, designed for professionals, by professionals; the quality shines through in every single detail. The number of journalists and TV reporters that showed up (several of whom took the mat class) floored me. (The FOX prime-time sport channel ran an 18-minute segment on Pilates, BASI Pilates and BASI Systems later that evening.)
A cocktail party ensued outside on the patio
Overlooking the Bosphorus. At some point, all were summoned to the auditorium for the official launch of BASI Systems, which kicked off with the screening of a video about the equipment. (See it at www.basisystems.com.) I gave an opening address, thanked everyone I could think of (of course, I forgot a few and kicked myself later) and gave a brief overview of the equipment, then was whisked to a sunset photo shoot. With all the excitement, very little food and tons of inspiration, my spirit was elevated to new heights, despite feeling a little lightheaded. (Check out the videos at www.BASIpilates.com).
Post-shoot, Cengiz Han and I ran to the spa for a little much needed pampering. Then we caught a water taxi to the other side of the straight, where Adelle, Elan and the other partners in BASI Systems—Oktay Duran, Cem Karakas and Ceylan—awaited us. At last, I was able to eat and enjoy the gorgeous evening, surrounded by friends, family, special guests and fantastic food. What a celebration.
AUGUST 17-19, ALACATI
Now the trip really started gaining steam! We caught an early morning flight down to Alacati, a world-class windsurfing and kiteboarding town. Unfortunately, the wind did not pick up, but nothing could dampen my mood, not even the lack of wind (every windsurfer's nightmare). We stayed in a little inn, swam in the pool and in the sea, and Elan, Cengiz Han and I went for a couple of early morning runs. (Elan left us in the dust.) We had two of the best seafood meals I have ever had in my life. After two days, it was time to leave paradise to seek more paradise.
AUGUST 20-25, AEGEAN SEA
We spent the next five days on The Lokoum, a 45-foot motor yacht that was just the right size for the six of us. In the 14 years I have known my son, I have never seen him so excited. Over the next four days, we cruised from bay to bay in the Aegean Sea, one bay more beautiful than the next. We swam at every hour of the day and night, the water always embracing, warm and silky on the body. The night sky was alive with stars, and the quiet so peaceful and calming.
We managed to have a few productive business meetings on the boat—without a doubt, my dream office. The moment I realized we are living in technologically unique times was when I received an email that my niece Maya, an award¬winning singer-songwriter, had released her new CD. I downloaded it from a distant spot in the Aegean Sea, and we proceeded to listen to it as the sun set and the stars emerged to brighten the sky. We live in an incredible age, indeed.
On the last night of our sailing trip, a mass of small fish enveloped the boat. They were everywhere, as deep as the eye could see, and actually jumping onto the back deck. We were doing our best to return them to the water. It was an amazing sight worthy of National Geographic. To me, it felt like some kind of wonderful omen, a farewell from the seas and a memory that will no doubt last a lifetime.
"All good things must come to an end," I remember my father saying to me as a child in South Africa as our summer vacations would draw to a close. I was sad to disembark the boat and start our long journey home.
I am now left with memories that randomly flood through my mind on a daily basis. I cannot help but reflect on the precious moments that my career in Pilates has afforded my family and me. I have been blessed with indescribable experiences, filled with thousands of people who have touched my life so deeply. I can only hope I have done the same for them. Finally, I reflect on the wonderful friends I have made, friends that have morphed into family. We are the BASI family.
Maybe You Like Them Too