Ness Knight, 33, is an explorer and motivational speaker. She has cycled solo across the US, paddle-boarded 1,000 miles, swum the Thames from its source to London, fat-biked across remote regions of Namibia, solo – and is about to embark on a UK marine research expedition.
'I' ve completed expeditions in extreme environments all over the world. I grew up in Africa and that gave me a strong bond with its rich culture, wildlife and fragile ecosystems. always knew I'd work with people, nature and conservation. A lot of my expeditions have been about "firsts". Last April, I completed the world's first source-to-sea descent of the Essequibo River in Guyana, South America. It it involved an international collaboration with the indigenous Wai Wai tribe to discover the river's source, which has never before been found or documented. We left them with vital tech to help them manage their own crucial conservation work.
THE ECO EXPLORER Photo Gallery
'From mid-June this year, I'll be embarking on my State of Our Seas expedition. Starting and finishing under London's Tower Bridge, I'll be sailing all around the UK's coastline as well as kayaking and paddle-boarding the inland waterways, for three to four months. We'll be doing vital marine research, taking and testing water samples, and exposing the most controversial stories that face our UK seas. And we'll be organising beach and waterway cleanup events and talks with the public as we go.'
NEW SOLUTIONS
I already know a big focus is going to be the microfibres we'll find in the water. Microfibres come from synthetic fabrics such as polyester, nylon and acrylic. A single load of laundry could release hundreds of thousands of plastic microfibres that leach into our waterways, and the ocean. Shockingly, a recent study showed that the river with the highest volume and intensity of microfibres in the world is in the UK. We need to take drastic action, not just by having microfibre filters on our washing machines as standard, but by choosing natural fabrics. I'm hoping my expedition will draw attention to this urgent issue.
'I'll have a top UK university doing research on the samples we collect, as well as engineers and inventors coming up with solutions. We'll be lobbying the Government and big industry, but also speaking to local fishermen and the public. And we'll draw attention to other issues affecting marine life, not just plastics. For example, the illegal killing of seals around salmon farms off Scotland, and the fact that so many fish species are migrating from the North Sea due to climate change and consequential sea temperature rises. 'I've always been about pushing my physical and mental limits to extremes through fitness challenges and exploration. But over the years, that changed me, and it became less about proving something to myself, more about trying to champion wildlife and environments in crisis and have a positive impact.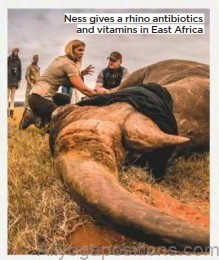 And, thankfully, I think more and more fit, adventurous people are feeling the same. Social media really helps with this, you can see what good deeds other people around the world are doing and draw inspiration. 'Thanks to programmes such as Blue Planet there are more people wanting to get involved with the natural world. Eco tourism is taking off and there are lots of opportunities for "citizen science" – from apps that help you log endangered and threatened wildlife to organisations that want the public to go out into the field and collect samples.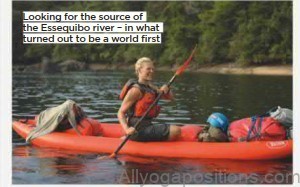 The cumulative effect of all our small efforts will bring about extraordinary change in planet earth. 'I would encourage anyone with a passion for the outdoors to start planning their own adventures. You don't have to go to far flung corners of the earth, we have the most extraordinary landscapes to explore in the UK. Get some friends together and head to a bothy in the Scottish Highlands for a few days. Find your wild side and you'll discover a new-found respect for nature that makes you want to take action.'
Maybe You Like Them Too