COUNTDOWN TO SUMMER WEEKS 1-4
Here's what your next training month should look like. Accelerate results by upping your daily activity – commute to work, play in the park or walk to the shops.
THE BASICS
HOW IT WORKS: Follow the monthly plan, left, ticking off the workouts as you complete them. If you feel sufficiently recovered, do an extra cardio session on Saturdays, but the key focus this month is to perform the exercises correctly.
WHAT YOU NEED; Very little, but you'll need some kit to overload your muscles as you get stronger – a kettlebell or dumbbells will be fine. Just make sure you can perform each exercise with perfect technique before adding additional weight.
How do I get fit in the summer? Photo Gallery
WORKOUT #A
Perform the following exercises in pairs, back-to-back, without rest. Take 75 seconds' rest between pairs and reduce the rest by 15 seconds each week

1 A. GOBLET SQUAT
REPS: 3×15
Stand with your feet hip-width apart and hold a kettlebell by the handle (or hold a dumbbell vertically) in front of your chest, elbows pointing toward the floor (a), Bend your knees and push your hips back to lower into a squat (b). Straighten your knees to stand back up, and repeat.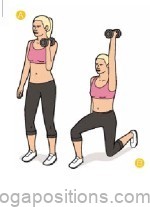 2A. SINGLE-ARM OVERHEAD REVERSE LUNGE
REPS: 3×15 (each side)
Stand and hold a dumbbell by your left shoulder, elbow below wrist (a). Step your left leg back into a lunge, take your back knee almost to the floor, and press the dumbbell overhead (b). As you come back to standing, keep your left arm in place. Lower the dumbbell and repeat. Complete all reps then swap sides.
1B. SUSPENDED INVERTED ROW
REPS: 3×15
Lie under a suspension system with your feet hip-width apart and flat on the floor.Grasp the handles with your arms extended and palms facing one another (a). Bend your elbows to pull your body up, until you're in a straight line from your shoulders to your knees (b). Extend your arms to lower back down, and repeat,
FRONT PLANK
REPS: 2 x 90 secs
Starting at the top of a push-up position, bend your elbows and lower yourself down until you can shift your weight from your hands to your forearms – your body should form a straight line, as above. Brace your abs (imagine someone's about to punch you in the stomach), squeeze your glutes and hold.
WORKOUT #B
Perform the following exercises in pairs, back-to-back without rest. Take 75 seconds' rest between pairs and reduce the rest by 15 seconds each week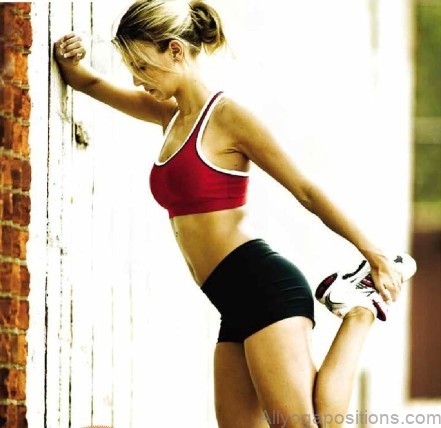 1 A. SPLIT SQUAT
REPS: 3×15 (each side}
Stand with one foot in front, one behind and both feet pointing forwards. Have a dumbbell in each hand (a). Squat down and allow your back heel to come high off the floor (b). Push back to standing and repeat.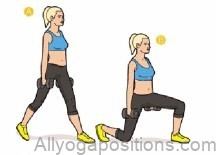 1B. PUSH-UP
REPS: 3×5
Lie face down on the floor, hands under your shoulders. Engage your core and your chest off the floor until you're in a plank position (a). Bend your elbows to lower your body almost to the floor. Your chest should nearly touch the ground, without your elbows flaring out to the sides (b). Pause and repeat.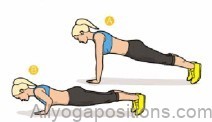 2A. HIP BRIDGE
REPS: 3 x 15
Lie on your back, with your knees bent, feet on the floor and your arms by your sides, palms facing down (a). Squeeze your bottom and raise your hips so your body is in a bridge position, keeping your thighs parallel (b). Hold this position for two seconds before lowering to the start. Repeat.
2B. SİDE PLANK
REPS: 2 x 60 secs (each side)
Lie on your right side with your legs and feet stacked. Shift your weight onto your right forearm, keeping your right elbow and shoulder in a straight line Broaden your chest and place your left hand on your hip. With each breath contract your abs a little bit harder. Lower with control, then repeat on the other side.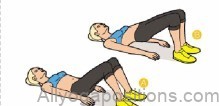 WORKOUT #C
You can do this cardio workout on any piece of equipment – treadmill, rower or pool. Or you can do it outdoors – by walking, running or cycling

HOW TO DO IT:
Do one minute of aerobic work (70-80 per cent or your maximum heart rate or 7/10 effort) and one minute of active rest. For example, run for one minute and jog/ walk for one minute, or do front crawl for one minute and breaststroke for one minute. Repeat 10-15 times. When you can complete all blocks of activity at a consistent pace, make the first minute of each block harder – for example, run, swim or pedal faster.

MEET THE TRAINER
Jean-Claude Vacassin is one of the UK's most sought- after personal trainers, and owner of West London Personal training gym, W10 Performance. A consultant for numerous athletes and companies, Vacassin has worked with and learned from the best experts in the fields of exercise, nutrition, naturopathy, functional medicine and rehabilitation. This has led him to develop a training philosophy that allows people to get results in a realistic time-frame. W10 Performance has just opened a new facility on 208-210 Kensal Road, W10 5BN. For further information, see WlOPerformance.com.
Maybe You Like Them Too