1. DO A MARATHON IN A DAY
We love the conceptbehind virtual eventMarathon in a Day! Basically,you have 24 hours to run amarathon (on your own or ina team, wherever you like)but only the time you spendmoving counts in your finishtime (submit your data fromStrava or another device). Thismeans you can break it downinto bite-sized chunks of yourchoice. Do this fun event fromSeptember 1-3 and raisemoney for charity. £15 for anindividual; marathoninaday.com.
2.GET A ZUMBA HIIT
If you love to boogie but want more of a cardio hitthan your current dance class gives you, check outSTRONG by Zumba. The edgy new cardio andbody-weight training class uses reverse engineeredmusic to synch your every move to the beat of themusic. Studies show this allows you to move yourbody more efficiently, boost your mood as well asyour endurance, and promote metabolic efficiency.It's already a hit with the likes of GB track andfield athlete Perri Shakes-Drayton, who says it's'surprisingly challenging'! strongbyzumba.com.
Your Guide to The Hottest Things to do See and Buy This Month Photo Gallery
3.GO FOR GOLD
We're eyeing up Suunto's newpartan Sport Wrist HR Gold! It'sthinner and lighter than other watchesin the range, and lets you measureyour heart rate on your wrist. Use itfor racing or intervals in 80 differentsports and monitor your progresswith graphs for heart rate, speed andaltitude. To help you navigate, thedevice shows the most popular routesin the area. £465; suunto.com.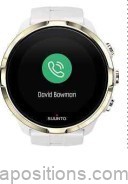 4.ARM YOURSELF
We all love a mini break, but we'll betyou often go away exhausted from all thepre-holiday prep. You need to boost yourva-va voom, and that's where nutritionistand naturopath Gabriela Peacock's new three-day nutritionrange comes into play. Her cute Mini-Break Me packrestores vitality, supports healthy sleep andrebalances energy, thanks to two sachetsa day containing capsules, and powderto mix into drinks. Ingredients include figextract, wheatgrass and broccoli. Justpop it into your luggage and off you go!£9.99; gpnutrition.co.uk.
5.FUEL ON THE GO
Getting enough protein for your workouts? Ifyou train a lot, you need 1g for every kg of bodyweight per day. Refuel on the go with the latesthigh-protein pouches from gourmet yoghurtcompany The Collective. With more muscle-building protein than two whole eggs (14g perserving), less sugar than a 100g apple and justtwo per cent fat, these guilt-free pre- and post-workout snacks are waiting to be eaten on thego. Containing all nine essential amino acids,the pouches have a blend of natural yoghurt, quark and addedwhey protein, and come in three delicious flavours: Berries(boysenberry and açai); Coconut with Honey & Vanilla; andStrawberry. £1.35 per 125g pouch; thecollectivedairy.com.

6.WEAR COOL KIT
In need of an athleisureupdate but not sure whereto start? Check out super-popular sports clothinge-tailer, Active in Style.Its newest label isdesigned by the company'sfounder, Caroline Lucey.Her clothing line AvenueC offers the core piecesevery active urbaniteneeds and ramps up thestyle dial with bang-on-trend silhouettes andstriking gold touches.Prices start from £35;activeinstyle.com.
Maybe You Like Them Too