IF YOU'VE EVER DONE A BARRE CLASS, you'll be familiar with the burn that the ballet- and Pilates- inspired moves induce, working the deeper muscles of the body and providing a challenge that no regular gym workout can. And Barrecore's barreSCULPT class takes this concept up a notch by introducing resistance-focused moves using a simple band. It's the perfect way to fast-track your results by adding intensity while still focusing on lengthening those muscles.
This barre SCULPT taster from Barrecore instructor Gemma BassWilliams will allow you to reap the full benefits, so long as you remember to focus on slow, controlled movements with each exercise and concentrate on the muscle groups targeted in the move.
Get Longer And Leaner With This Extra-Intense Barre Workout From Global Phenom Barre Core Photo Gallery
HOW TO DO IT: Work through the circuit three times, taking 10-30 seconds' rest between each position. Aim to do the circuit without rest as you improve.
YOU'LL NEED:
A resistance band, and in a natural turnout, holding the ends.

1
WIDE SECOND GREAT FOR: CHEST, UPPER BACK, UPPER ARMS, THIGHS, BOTTOM
Technique
* With the middle of a resistance band hooked around something sturdy in front of you, start with feet wider than hip-width of the resistance band, ensuring it's taut.
* Drop your hips down to knee level or as low as you can go, keeping a neutral spine.
* Pulse up and down and pull the band towards your sides, drawing your shoulder blades together.
* Do 20 reps.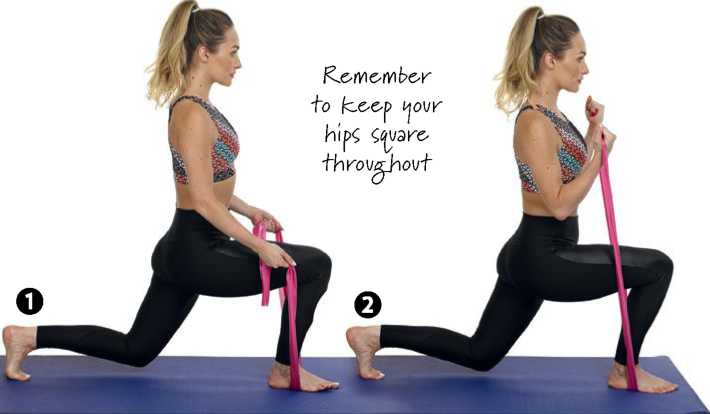 2
LUNGE WITH BICEP CURL GREAT FOR: BOTTOM, THIGHS, CORE, UPPER ARMS
Technique
* Hold the band in both hands and take a large step forward. Place the middle of the band under your front foot.
* Bend both knees to 90 degrees, lowering your back knee until it's almost on the floor.
* Keeping your elbows close to your sides, raise the band up to your shoulders.
* Lower the band and repeat the bicep curl as you pulse in the bottom of the lunge for 5-10 reps.
* Return to standing then repeat on the opposite side.
PUSHUP WITH BAND
GREAT FOR: CHEST, ARMS, CORE, UPPER BACK, SIDES, SHOULDERS
Technique
* Holding the band with both hands, get into a high plank position with your hands wider than shoulder-width distance apart.
* Bend your arms to lower your chest towards the floor, keeping your body in a straight line with your elbows tracking behind you.
* Push back up to the start and, as you do so, rotate at your torso to reach one arm straight up to the ceiling, pulling the band with you and following your hand with your eyes.
* Lower your hand back to the start and repeat, alternating which hand you reach with for each rep. '
* Do 10 reps.


VERTICAL V GREAT FOR: BOTTOM, THIGHS, LEGS, CORE
Technique
* Start with your heels together, toes apart, and a taut resistance band tied around the middle of your thighs.
* Bend your knees over your toes and place your hands on your hips.
* Hover your heels an inch off the floor and turn your knees out, holding the pose for 30 seconds.
* As you hover on your heels, carefully raise your arms straight above your head in a V shape.
* Tuck your hips forward slowly then release, then tuck again for 30 seconds.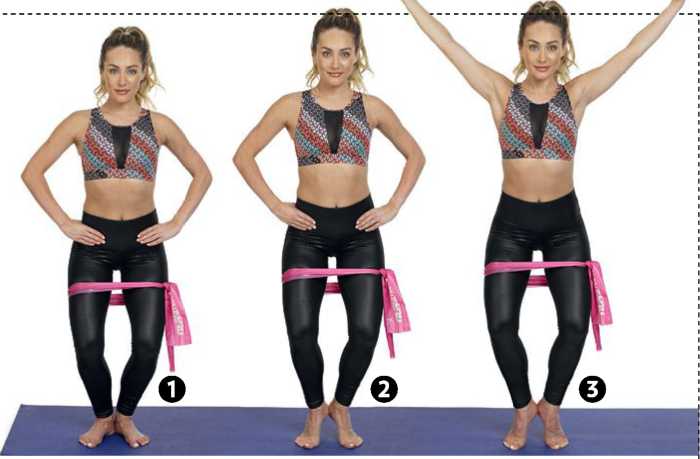 ARABESQUE POSITION
GREAT FOR: BOTTOM, THIGHS, CORE, BACK
* Place your hands on a wall with your arms outstretched and positioned wider than shoulder-width.
* Walk your feet back, bring your heels
* Extend your left leg long behind you and externally rotate your hip until your big toe touches the floor.
* Lift your left leg up for two counts, no higher than your hip.
* Keep your leg in this position as you draw tiny circles with your big toe. Do this for 60 seconds on each leg.
Focus on the length rather than height of your leg to elongate it together and your toes about two inches apart. Bend your knees.
Technique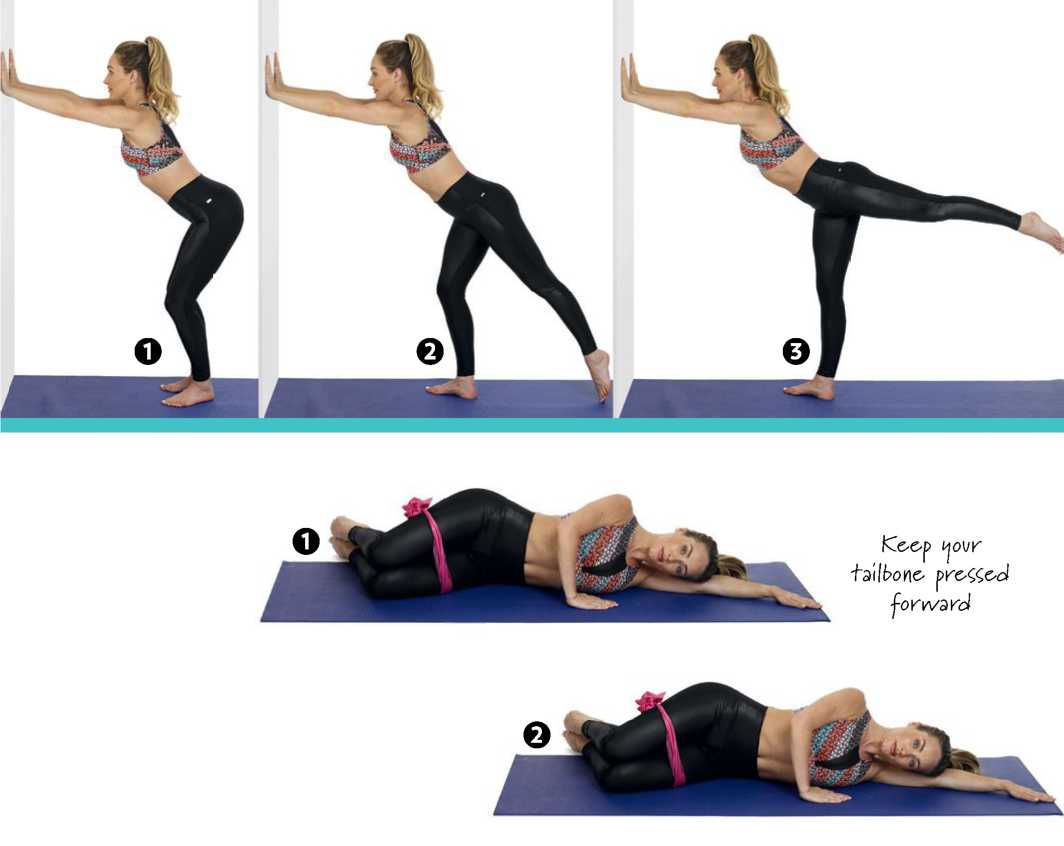 CLAMSHELL GREAT FOR: BOTTOM
Technique
* Lie on your side with a resistance band tied around your thighs. Ensure your ears, shoulders and hips are all in one line with knees bent.
* Keep your pelvis still and rotate your top knee open.
Hold for two counts, then down for two counts.
* Repeat for 60 seconds on both sides.
HIGH CURL
GREAT FOR: STOMACH, CORE
Technique
* Sit on the floor with your legs bent. Then, keeping your back straight, hold your arms like you're hugging a ball.
* Tuck your tailbone and roll back slowly, creating a C-curve with your spine.
* Return to the start and repeat for 30 to 60 seconds.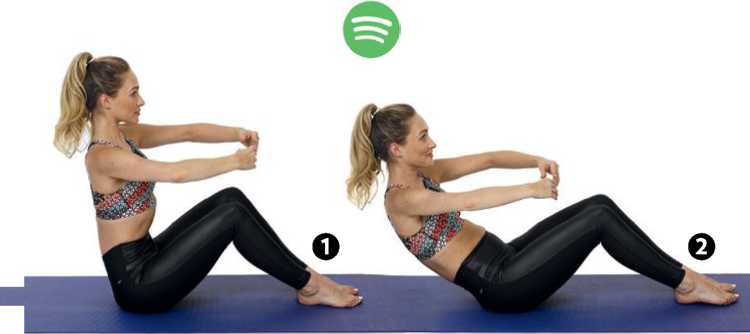 Search for womensfitnessau on Spotify to get this workout's matching playlist!
Keep your tailbone tucked under to avoid overarching the lower back.

STANDING TRICEPS
O GREAT FOR: REAR UPPER ARMS
Technique
* Stand with feet hip-width apart, knees slightly bent and chest open.
* Hold the band in your right hand behind your head, keeping your arm at head height. Take the bottom of the band with your other hand at the middle back.
* Keeping your elbow in, extend your top arm to the ceiling. Perform 10 reps.
* Now keep your top arm bent and extend your bottom arm for 10 reps.
* Switch sides and repeat the move. !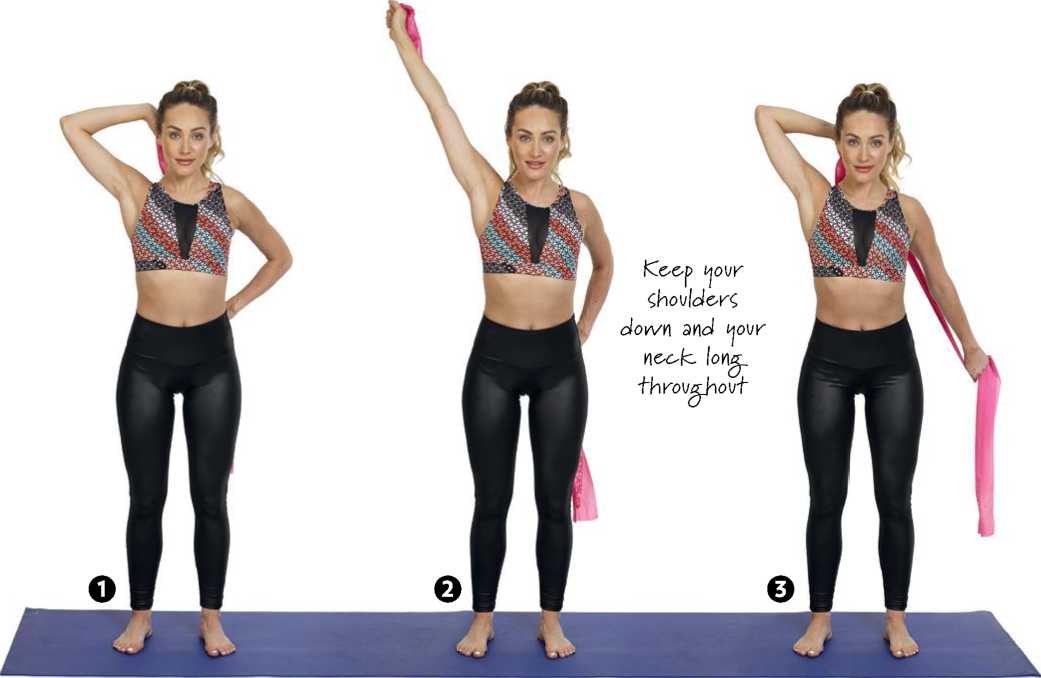 Maybe You Like Them Too